Château Le Gay
Château Le Gay was the childhood home of historian and artist Léo DROUYN (1816-1896)
"Le Gay, I can never utter this word without remembering every moment of my childhood … " he said.
In the archives of the property, Léo Drouyn could trace its history back to 1314. 'At that time, the village was known as Allaris, after the Segneurie d'Anglade.' At the beginning of the 18th century, the property was owned by Simon de Bousquet whose son in law Pierre Lambert became the sole owner of the estate and its outbuildings. After his death, the house was lived in by his widow, her daughter and husband Claude Drouyn, then the young Léo Drouyn with his mother, sister Marguerite and brother Gabriel.

Presentation :
            Château Le Gay, today the headquarters of all the family estates, comprises a vineyard that is well situated over a gravel outcrop particularly well suited for growing vines. The flinty soil contains a wide variety of gravels, with a clay sub-oil, and both the vineyard and its wines are given the utmost care and attention. Planted with a variety of grapes, the wines produced are well renowned and among the best of the region.
Château Le Gay Produces :
– a white wine

 

where the traditionnal Semillon grape is harvested only when fully matured to make this an exceptional dry wine
– a claret wine from red grape varieties, this is a halfway point between red and rose wines. This means it combines the richness of the first with the freshness and fruitiness of the second. It is perfect for sunny days, from aperitif right through to dessert, served cold but not frozen.
– a red wine  perfectly balanced and widely enjoyed.

Château Lagraula

Perfectly located on one of the best slopes on the left bank of the Dordogne river, the vineyard of Château Lagraula, planted with the finest local grape varieties, produces wines that are notable for their perfect balance.
Below a photo of Harvest LAGRAULA the castle in 1850.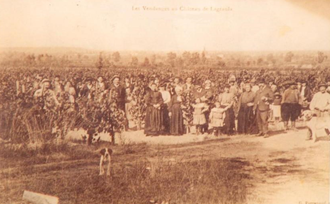 Château Briand

Even back in 1892, Château Briand was accorded first place at the 'Palmarès des vins' in Lourdes, thanks to intrinsic quality.
The beautiful gravel outcrop gives :
– A red wine

that is the perfect accompaniment to a Château Briand.
– A white wine

that brings out the delicate flavours of fish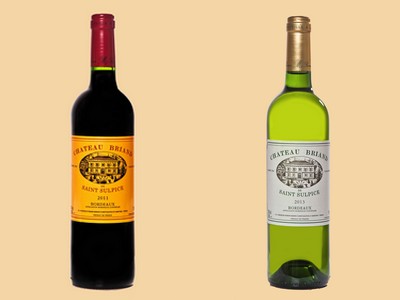 Château Grand Bourdieu

Charming property situated on the banks of the Dordogne river just a stone's throw from the two famous Eiffel bridges – that see trains pass over one, and once horse and carts and now cars over the other.
These rich soils produce a wine that is well structured and generous.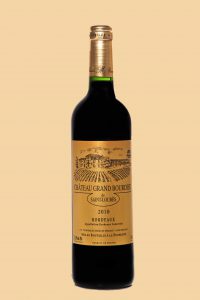 Peyrin
Peyrin is an enclave of Château Le Gay
They share therefore many similarities, but the blend of grape varities, and the subtle nuances of the terroir create:
– A red wine

that favours elegance over pure power
– A white wine

which works perfectly with seafood and a variety of starters